No doubt, you've probably heard that "c" word floating around in the health and wellness sphere. Today we're diving straight into the sticky matter, into the "glue" that holds our bodies together. Collagen! That's right, collagen, being the most abundant protein in the body, is quite literally holding us together. It is composed of several amino acids, which are the building blocks to every cell in our body, and since we are cellular beings composed of a collection of trillions of cells (and bugs, but more on that below), we could all use some nourishing cellular support.
Collagen is a key constituent of all connective tissue; it's what helps give our skin strength and elasticity, replaces dead skin cells, and kind of holds everything in place in the body. I won't dive into the whole amino acid profile of collagen, but let's just say it's loaded; it includes proline and glycine, which are powerful healers to the stomach lining and in preventing stress-induced ulcers. Collagen also contains glutamine, which is a key amino acid that prevents inflammation of the gut wall and helps heal leaky gut syndrome. But, as per usual, I'm getting ahead of myself….
I've also asked some collagen pros a few questions, in which they graciously provided some feedback about how collagen has effected their health and also some delicious ways to implement it in the daily regimen. But first, why should you add collagen to your diet, especially if you have so much of it in your body already!?
I am so very glad you asked!
Video Key Point:
So basically, why you should take it? You should take it for you! You already have so much natural beauty within you, so much shine and unique offerings for the world. Taking some additional collagen just helps to polish that natural luster you already have. Because as you saw, those dark clouds of stress, free radicals, pollutants, poor diet, gut imbalances, over exposure to the sun, etc are pretty tough collagen-depleting villains; additional dietary collagen is like a secret weapon against them.
And here's a bit more for the nutrition nerds, like myself. If you like, you can skip down below to some delicious collagen recipes and blogger feedback. 🙂
Collagen Benefits: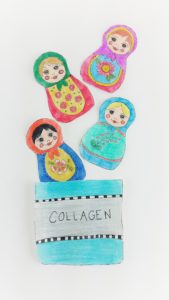 Adding collagen to a diet is not a new revelation; its roots run deep to our ancestors utilizing whole animal nutrition, which provided an abundant amount of collagen (Think bone broth here!). However, we unfortunately don't eat much like our ancestors used to anymore and over the past century, modern food processing has removed much of this protein from our diets. Another factor to consider is that the natural collagen in our bodies slowly diminishes as we age. And, yes, life seems to be ever abundant with those villains mentioned earlier….buuuuut *cue good news…"
By taking collagen, we actually signal the body to make more collagen! Great news, right? After ingesting collagen, it accumulates in cartilage tissue and actually stimulates the production of type II collagen. Aren't our bodies so neat that way? They were designed with such an innate intelligence to give us a thriving life; our job (which, I like to think of as a privilege) is to give them the proper building blocks to work with, such as a whole foods diet and maintaining an active lifestyle.
There are honestly so many benefits of collagen, but here are a few key points:
Sleep Quality – Aids in re-balancing the body's natural sleep cycle, which inevitably leads to better cognitive function and less daytime drowsiness. It makes sense, if we sleep better, we're able to function better in life.
Bone and Joint Health – Speeds up wound healing and loosens up those joints. So in other words, break out those dancing shoes and get ready to pull out some moves on the dance floor!
Digestion – Soothes and heals the digestive tract, repairing that essential mucus lining, so it's great for Leaky Gut Syndrome, which is when large undigested foods pass through "holes" in the lining of the small intestine, and the body ends up attacking itself. Furthermore, collagen actually helps digest the protein and fat found in food. I find, in general, we could all use a little help in the digestion and absorption of nutrients department. Because we are both what we eat AND absorb (and think – that's why it's so vitally important to know your inner beauty, shine, and worth.)
Skin Health – Remember those elastic and regenerative properties of those amino acids? Well, think less wrinkles and cellulite and firmer, healthier looking skin.
Athletic Performance – Helps repair tissue damage, lessening inflammation, which in turn, results in shorter recovery time after intense workouts or injury.
Now onto those fruits, veggies, and fiber….
Fruits, Veggies, and Fiber Benefits:
Likewise with collagen, eating fruits, veggies, and fiber for health is not a new concept. Remember that last "nutrition nerd" bit in the video about the phytochemicals found in plant foods? In case you missed it, not only do fruits and veggies supply us with a wide spectrum of micronutrients, but they're also a rich source of phytochemicals. These plant compounds are evident in the colorful array and unique smell of fruits and veggies. That intoxicating garlic smell? That deep ruby red of raspberries? That's phytochemicals, and though much science is still being conducted on this topic, it looks like these plant characteristics help protect us from diseases, slowing the growth of cancer cells, helping in hormone regulation, and reducing inflammation. So the next time your loved one has garlic breath, congratulate them on getting some carcinogen detoxifying organosulfur compounds in their diet!
And now onto a bit not really addressed in the video, since you can only say so much with Russian Dolls dancing and bobbing about the screen, and that's on the importance of fiber in the diet, as Dr. Sarah Ballantyne, PhD has thoroughly highlighted here: https://www.thepaleomom.com/5-reasons-eat-fiber/. (I highly recommend this read!)
Summary Points:
If you'll recall from earlier, we're composed of trillions of cells AND bugs. Well, fiber is fuel for those bugs, those gut bacteria. There are different classes of fiber and, like all things in our uniquely orchestrated body, each one plays a different role and has a different purpose. Soluble fiber is the kind that dissolves in liquid and travels through our gut in a gel-like substance; it's great food to the bacteria living there. Insoluble fiber, on the other hand, comes in a couple of types; some can be fermented by the bacteria, while others absorb water and increase our stool bulk. The takeaway message is that when the gut bacteria use the fermentable fiber as a fuel source for themselves, they produce beneficial byproducts for us in the process, such as short-chain fatty acids and vitamins. In fact, Vitamin K1 is converted to K2 during the process, and Vitamin K2 is actually the type that our body recognizes and uses, so that conversion is pretty important. The other takeaway message is that help in producing healthy bowel movements with some fiber support is nevvvvver a bad thing. 🙂
How can you add more fiber to your diet? That's right, back to those veggies (and some fruits and nuts).
We thrive on getting a variety of all the major classes of fiber, and so it's suggested to eat about 10-14 serving of veggies everyday.
Not only are fiber rich foods great for our gut (to feed those bacteria), our digestion (increasing that stool bulk for good bowel movements) but also sleep! Plus, they can be oh so delicious. I'm staring at you sweet potato loaded with grass fed butter….
So, just remember, you have a brilliant inner shine to you and collagen helps tap into it. And those fruits, veggies, and fiber are essential to living a thriving life. I highly recommend eating like our ancestors with a wide variety of unprocessed whole foods, making collagen-rich bone broth, and loading up on quality fruits and veggies. However, if you're short on time or have a compromised digestive system, making it hard to actually absorb the nutrition you're eating, I highly recommend companies like Vital Proteins and people like Dr. Sarah Ballantyne who've formulated an easy way to eat and digest these healing foods in this collagen veggie blend (link.) People are taking the time to bridge the gap between ancestral health and modern convenience, and I'm so grateful to them.
Now onto those recipes and feedback you've probably been waiting for….(and I highly recommend following these awesome blogs + people!)
Bloggers + Health Enthusiasts Collagen Feedback:
Michelle Hoover – www.unboundwellness.com
How long have you been taking it? About 6-9 months or so!
What did you notice after taking it/how did it effect you the most? Satiation!! It keeps me so full and satisfied if I'm on the go and having a light snack like a tea or a smoothie. I struggle with sit down meals at restaurants with all of my food allergies, as well as protein bars, so the collagen packs to go in particular make moving around so much easier for me. I generally just feel better with less cravings when I have it in my diet regularly.
Any recipes you'd like to share using it? So many! This is the most recent – http://unboundwellness.com/collagen-veggie-fat-balls/ 🙂
How long have you been taking it? We've been taking collagen since 2013, so going on 4 years of it and love it. We have it every day as we love it so much!
What did you notice after taking it/how did it effect you the most? It took us a few months of being consistent with taking it before we noticed it helping our health issues. We first noticed our hair and nail health improve. Then our acne started to get better and then helped with digestion. Over time, we do think it has helped with our joints. Now we notice how collagen helps keep feeling full, which allows us to eat enough to feel full but not overly full, so we can still focus and have energy to do our work.
Any recipes you'd like to share using it?
Ashley Castle – www.ashleycastlenutrition.com
How long have you been taking it? I've been using Vital Proteins collagen peptides for close to 3 years now. It was one of the first products I came across as I was just beginning my journey with nutrition and real, quality food. I loved the sourcing of ingredients and the simple, straightforward nature of all of their products–no additives or mystery ingredients. I usually do around 2 scoops of peptides daily. The gelatin was perfect when I was following an AIP diet and needed something to sub for eggs in baked goods. I've also used their beef liver capsules and love the simplicity of getting in some quality liver in an exceptionally easy and palatable way. I've since convinced many friends and family members to add Vital Proteins to their day!
What did you notice after taking it/how did it effect you the most? Initially I just started taking it to add the extra nutrients into my diet. I've continued it as an overall gut support for healing my leaky gut and keeping my autoimmune disease at bay. It's such an easy addition to daily drinks and eats. Prior to taking it, my hair seemed stuck at the same length for ages and was just slow to grow. After taking it for a while, and even still, I've noticed so much rapid growth with my hair, where it suddenly just seemed like it was so long and got there quickly. In addition to other quality changes in my diet and the removal of all fake food and junk, I've also seen great improvements in my skin with regular collagen peptides. All around, it's a supplement that I feel great about!
Any recipes you'd like to share using it? I honestly feel like you can add the collagen peptides to just about anything. Again, the gelatin is great as an egg substitute in baked goods.
Caroline Potter – www.colorfuleats.com
How long have you been taking it? I have been taking it for 1 1/2 years now.
What did you notice after taking it? Crazy hair and nail growth as well as improved hair texture. I also notice that when I add it to my morning coffee along with butter and cream, I feel much more satisfied in the morning after eating breakfast.
Recipes:
Caitlin Eberly – www.whatcaitate.com
How long have you been taking it? Probably about two years now!
What did you notice after taking it/how did it effect you the most? Making collagen part of my daily routine has noticeably made my skin brighter and more vibrant! That was probably the first thing I noticed, as well as stronger hair and nails. I've also noticed my digestion is much more reliable and less irritable day-to-day ever since I started taking it. I like to have one scoop in the morning with my smoothie or turmeric latte to kick off the day, and at night mixed into some stress-relief tea to support my adrenals while I'm sleeping!
Any recipes you'd like to share using it?
Smoothies
Mixed Into Baked Goods (like this ooey-gooey chocolate chip banana bread!)
Gelatin Gummies (made with Gelatin, not Collagen)
Stirred into Oatmeal (hot or cold)
Mixed into gluten free french toast
Mixed with Golden Root Turmeric mix + some homemade almond milk for a Golden Milk Latte
My experience:
When I first heard about taking collagen peptides, I was pretty much, "What now, you want me to take bovine cartilage?!" Now this was me coming over a stint of eliminating a lot of animal products from my diet because I thought they were exasperating my gut issues. Now, however, I happily chug bone broth by itself and have collagen peptides every single day.
After taking collagen steadily for a few years, I definitely started noticing skin health (still working on that hair!), and eventually digestive health. I definitely feel it in my gut when I don't take it. It's a pantry staple in my house!
As a future nutritional therapist, I plan on recommending Vital Proteins collagen to my clients (ok, everybody in general haha), and even better if it's the veggie collagen blend.
Now, I'm not quite done with you yet, but oh so close, I promise!
Challenge:
I'm proposing a challenge, trying out collagen for 21 days,* combining it with a positive thought (because we are what we eat, absorb, AND think – http://www.cathrynfowler.com/renewing-the-mind/), some fun movement, and a whole foods fruits & veggies loaded diet. Do it for 21 days and see how you feel at the end of it. If you like, you can hashtag your experience on Instagram with #21daystoreclaimhealth to share your progress, the ways you use collagen, what positive thoughts you're thinking, or how you're incorporating fun movement in the day. This is just a fun way to support each other and feel really great while doing it, because community is one of those essential pillars to a life well lived. 🙂
I have some cards here to fuel your challenge. If you like, choose one and post it up somewhere where you'll see it everyday to remind yourself of why you're doing this, why you're investing in yourself….because you're WORTH reclaiming your birthright of health and happiness!
*Why 21 days?
"It takes 21 days for certain protein changes to happen in the brain for the new memory to become self-sustaining and for the old memory to be broken down." – Dr. Caroline Leaf
And you need to repeat this 21 day cycle for up to three months for it to become automatized, which means it is now in your unconscious, which controls your conscious thinking that precedes every single thing you do. If you don't use the new memory, the proteins made will denature and the memory will physically disassemble. (Summary from "Switch on Your Brain")
So, in this case, you are building or re-establishing the thought that you're naturally full of so much authentic beauty, shine, and purpose, and you are worth fueling that beauty, shine, and purpose with a healthy lifestyle and foods that provide the necessary building blocks for you to thrive in life. Because, it's all so true!
So print a card, say the words out loud, and grab some collagen avocado ice cream or veggie chocolate cake. Celebrate you and you're worth!
Save
Save
Save
Save
Save
Save
Save
Save
Save
Save
Save
Save
Save
Save
Save
Save
Save
Save
Save
Save
Save
Save
Save
Save
Save